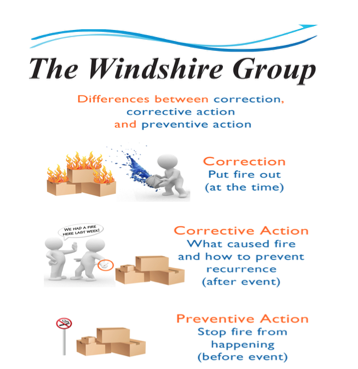 Correction, Corrective Action and Preventive Action Defined
Corrective and preventive action are improvements to an organization's processes taken to eliminate causes of non-conformities or other undesirable situations.   It is usually a set of actions which are required to be taken and implemented in an organization at levels of manufacturing, documentation, procedures or systems in order to rectify and eliminate the recurrence of nonperformance.
The corrective and preventive action is designed by a team, including quality assurance personnel and personnel involved in the actual observation point of nonconformance, and is required to be systematically implemented and observed for its ability to eliminate further recurrence of such nonconformities in the future.
In managing a robust quality system, our plans for executing initiatives do not always go as planned, so professionals use many corrective action-related terms when discussing remediation strategies.
Oftentimes, their meaning may be confusing. So, for that reason, let's discuss the differences between the terms, correction, corrective action and preventive action.
The featured graphic demonstrates the differences that exist in terminology related to correcting and preventing actions that we may encounter in the future.
First, please look at the person in the top row. He's putting out a fire. He's putting the fire out at the time that it's actually occurring. This is correction.
The second little image we have here is two employees discussing the fact they had a fire last week. As you can see, one employee is actually smoking near the boxes, which are obviously highly flammable. As they're talking about it, perhaps they're thinking, "I wonder what caused the fire? How can we prevent this occurrence?" This is corrective action.
So through the conversation that those two employees have had, they may have reviewed some of the things that might be a little bit faulty in the second picture. What's the root cause? They could place a no smoking sign that might prevent a fire from happening again. This is "preventive action."
Preventive action doesn't have to be associated with something that has gone wrong. It can be a proactive approach that you can take and prevent things from going wrong before they occur. Sometimes the proactive approach requires an interim control to reduce risk before the corrective and preventative actions can be fully implemented.
The Windshire Group offers remediation and corrective and preventive action-related consulting services and associated training. For further information, please contact info@windshire.com; (+1) 844.686.5750
Learn More From the Complete Webcast: