Biopharmaceutical, Pharmaceutical Regulatory Submissions Mgt. Solution
Basic Capabilities
Qualified Microsoft based infrastructure including SharePoint and SQL Server
Content management system preconfigured to EDM Reference Model for regulatory submissions
Submission-ready PDF renditions
Collaborative review and approval workflows
Advanced Capabilities
Submission management for IND, NDA, BLA, ANDA and DMFs
Optional submission templates for eCTD document authoring
Optional eCTD publishing services and software
Challenge
Submitting drug applications and medical device applications in eCTD and related formats is now a requirement for many regulatory bodies around the world. Companies who have relied on paper format or do not have the capacity to capture electronic signatures compliant with 21 CFR11 ("Part 11") requirements need solutions that are cost-effective, and easily and quickly implemented. Additionally, many organizations do not have the in-house experts to execute eCTD filings and the writing of technical content.
Our Solution
Drug and Medical Device Regulatory Submissions Content Publishing and Management Solution
We offer pre-configured, validated system to manage documents electronically that comply with the eCTD mandates on a per user, per month, subscription basis. This way, you don't have to invest in expensive IT system infrastructure and dedicated technical staff. Windshire's experts can assist with everything from system implementation, validation and eCTD project management and execution, eCTD consulting and publishing services, and technical writing, and CMC regulatory strategy. You can take advantage of industry best practices and proven robust systems with access when you need it.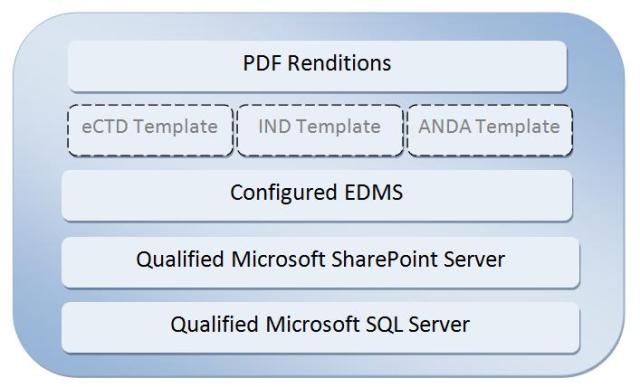 RegDocs365 is the new turn-key content management solution aimed at helping teams of disparate researchers to prepare their regulatory submissions. RegDocs365 is a SharePoint based system implemented on fully qualified infrastructure to host validated applications, including "submission bundles consisting of EDMS & eCTD solutions", and is purchased on a monthly subscription basis. RegDocs365 enables pharmaceutical, biotechnology and medical device companies to author, review, approve, collaborate, and publish submissions.